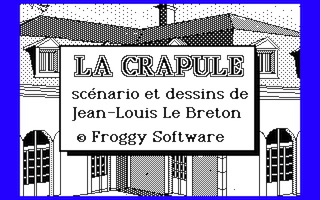 ---
The Story behind La Crapule
La Crapule was writen by Jean-Louis Le Breton for the Macintosh only in 1987. It was released by Froggy Software, owned by Jean-Louis Le Breton. Jean-Louis is the author of the first Apple II adventure games in French and has released more than ten games through Froggy Software.

Brutal Deluxe Software is proud to make it available for the Apple II computer line with the agreement (blessing ;-)) of Jean-Louis. The first three signed copies by Jean-Louis will be auctioned on eBay.

The game engine is powerful, you can enter a full sentence, eg. "I go north", "I talk to the Countess". There are more than ten rooms, plenty of characters, the dictionary is huge and the number of play hours is high.

The game engine development kit will soon be available through the same channel. Let your imagination wander to create your adventure games in text only or with pictures: from 40-col text, 80-col, GR, DGR, HGR (mono/color where supported), DHGR (mono/color where supported) to SHR pictures.


---
The package
Now, get a complete package like in the 80's: a zip-lock bag, a 5.25" or 3.5" disk and a manual! Either in French or English.
The game runs on Apple //+, //e, //c, IIgs ROM 01 and ROM 3 with at least 64K and a 80-column card. It runs under ProDOS and is hard-disk drive installable.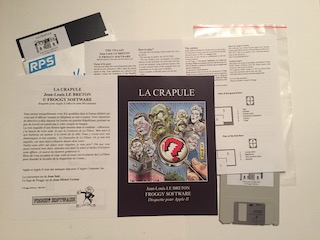 ---
Special offer for Apple II events For the attendees of the yearly KansasFest and the Apple II Festival France convention, get your package at a discount rate of 50%. We will deliver your copy there and only there!
---
See La Crapule in action!
Click >here< (French version)
Click >here< (English version)
---
Shipment status (if you're here, you'll receive it shortly)
| | | |
| --- | --- | --- |
| 1 | Jean-Alain, France | Shipped |
| 2 | David, France | Shipped |
| 3 | eBay | |
| 4 | Peter, USA | Shipped |
| 5 | Guillaume, France | A2FF |
| 6 | Jorma, Finland | Shipped |
| 7 | Jorma, Finland | Shipped |
| 8 | Michael, Australia | KFest |
| 9 | Herbert, Canada | KFest |
| 10 | Stephane, Canada | Shipped |
| 11 | Jean-Christophe, France | Shipped |
| 12 | Mario, Germany | A2FF |
| 13 | Kenneth, USA | KFest |
| 14 | Koenraad, Belgium | Shipped |
| 15 | Nicolas, France | Shipped |
| 16 | John, UK | Shipped |
| 17 | Gilles, France | Shipped |
| 18 | Michael, USA | KFest |
| 19 | Michael, USA | KFest |
| 20 | Adam, USA | Shipped |
| 21 | Jan-Erik, Sweden | Shipped |
| 22 | Alain, France | KFest |
| 23 | Nicolas, France | Shipped |
| 24 | Didier, France | Shipped |
| 25 | Dan, USA | Shipped |
| 26 | Marc, France | Shipped |
| 27 | Wyatt, Hong-Kong | Shipped |
| 28 | Michel, France | Shipped |
| 29 | Nicolas, France | Shipped |
| 30 | David, France | Shipped |
| 31 | David, France | Shipped |
| 32 | David, France | Shipped |
| 33 | David, France | Shipped |
| 34 | Eric, France | Shipped |
| 35 | Hervé, France | Shipped |
| 36 | Philippe, France | Shipped |
| 37 | Philippe, France | Shipped |
| 38 | Philippe, France | Shipped |
| 39 | Ivan, USA | KFest |
| 40 | Ivan, USA | KFest |
| 41 | Tony, USA | KFest |
| 42 | Jason, USA | Shipped |
| 43 | Mark, USA | KFest |
| 44 | Andy, USA | KFest |
| 45 | Dagen, USA | KFest |
| 46 | Kirk, USA | KFest |
| 47 | Martin, USA | KFest |
| 48 | Peter, USA | KFest |
| 49 | Sean, USA | KFest |
| 50 | Steven, USA | KFest |
| 51 | David, USA | KFest |
| 52 | Michael, USA | KFest |
| 53 | Randy, USA | KFest |
| 54 | John, USA | KFest |
| 55 | Quinn, Canada | KFest |
| 56 | Henry, USA | KFest |
| 57 | Anthony, USA | KFest |
| 58 | Ken, USA | KFest |
| 59 | Mark, USA | KFest |
| 60 | Evan, USA | KFest |
| 61 | Mike, USA | KFest |
| 62 | USA | KFest |
| 63 | Olivier, USA | KFest |
| 64 | Daniel, USA | KFest |
| 65 | Ian, USA | KFest |
| 66 | Ian, USA | KFest |
| 67 | Stravros, USA | KFest |
| 68 | Kate, USA | KFest |
| 69 | Stu, USA | KFest |
| 70 | Stu, USA | KFest |
| 71 | James, USA | KFest |
| 72 | USA | KFest |
| 73 | USA | KFest |
| 74 | USA | KFest |
| 75 | USA | KFest |
| 76 | USA | KFest |
| 77 | USA | KFest |
| 78 | USA | KFest |
| 79 | USA | KFest |
| 80 | Philippe, France | Shipped |
| 81 | Philippe, France | A2FF |
| 82 | Nicolas, France | Shipped |
| 83 | Franck, France | A2FF |
| 84 | Olivier, France | A2FF |
| 85 | François, France | A2FF |
| 86 | Benoît, France | A2FF |
| 87 | Silicium, France | A2FF |
| 88 | Didier, France | A2FF |
| 89 | My parents, France | A2FF |
| 90 | Gilles, France | Shipped |
| 91 | Fabrice, France | Shipped |
| 92 | Flemming, Denmaker | Shipped |
| 93 | Franck, France | Shipped |
| 94 | Gilles, France | Shipped |
| 95 | Pierre, Belgique | Shipped |
| 96 | Jean-Michel, France | Shipped |
| 97 | Dominique, France | Shipped |
| 98 | Patrick, France | Shipped |
| 99 | Aurélien, France | Shipped |
| 100 | Byron, USA | Shipped |
| 101 | Byron, USA | Shipped |
| 102 | Nicolas, France | Shipped |
| 103 | Stéphane, France | Shipped |
| 104 | Benjamin, USA | Shipped |